Seasons Avenue Hanoi Location Map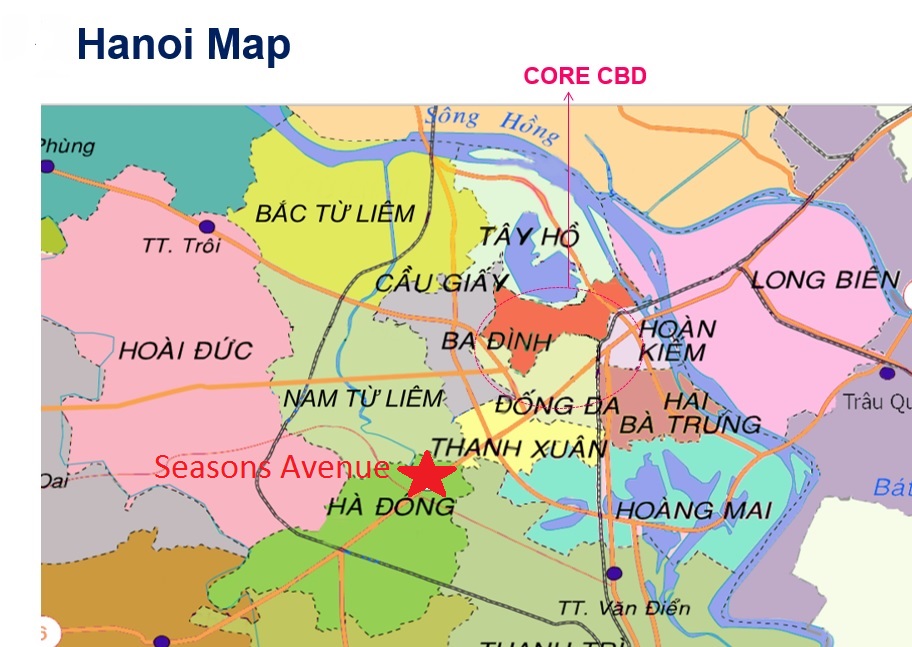 What's Nearby Seasons Avenue Hanoi?
Strategic Location
• At the border of Ha Dong district and the city's new CBD. The project site located at Mo Lao NUA, 10km to old CBD and 4km to new CBD. It is served by well established road network. There are two main access to Mo Lao NUA: from Nguyen Trai Street and from Le Van Luong highway.
• Within 10 minute stroll, one can find Big C shopping mall, CGV cinema, Coopmart supermarket and 103 Military Hospital.
• Within close proximity (1 km) to educational establishments such as Hanoi University, Hanoi Architectural University.
• Leverage on the infrastructural development of Ha Dong district, scheduled for completion in late 2016
WHY HADONG District?
Ha Dong is an a strong growth area, the South West gateway of Hanoi.
The district is well supported by comprehensive and synchronized infrastructure development
Cat Linh – Ha Dong metro line spans approximate distance of 14km, connecting the old and the new CBD
Bus Rapid System complements the Metro line by covering smaller distance interval
WHY MO LAO New Urban Area?
Mo Lao NUA is at the border of Ha Dong and the New CBD
Convenient access to the New CBD (10 mins drive) but still retain its exclusivity and peacefulness
Well equipped with amenities such as Big C Shopping Mall, CGV Cinema, Coopmart Supermarket, Hospitals and Schools